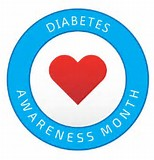 More than 30 million Americans have diabetes and another 84 million have prediabetes and are at risk for developing type 2 diabetes, according to the Centers for Disease Control (CDC). In addition, diabetes is the leading cause of new cases of blindness among adults. As prevalent as the condition is, 79 percent of Americans don't know diabetic eye diseases have no visible symptoms and more than half do not know comprehensive eye examinations can detect diabetes, according to the most recent American Eye-Q® Survey conducted by the American Optometric Association (AOA).
"In 2016 alone, doctors of optometry identified diabetes-related manifestations in more than 320,000 patients who were unaware they had diabetes, leading to prompt diagnoses and care, which minimizes the risk of complications," said Christopher J. Quinn, O.D., president of the AOA. "A dilated eye examination by a doctor of optometry is one of the most efficient ways to detect new cases of diabetes."
During November's Diabetes Awareness Month, the AOA, the leading authority in eye and vision healthcare, is committed to educating the public about the relationship between diabetes and eye health, as the annual Eye-Q survey shows that after learning about the topic many participants said they would be prompted to take steps to ensure their eye health. The AOA advocates for regular, dilated eye exams for those with diabetes, or at risk for diabetes, because the alternatives, like online vision apps, only check for refractive errors like nearsightedness, farsightedness or astigmatism and cannot detect diabetes.
"When the eyes are dilated, an eye doctor is able to examine the retina for signs of diabetic eye disease and prescribe a course of treatment to help preserve an individual's sight," Dr. Quinn said. "Many eye problems show no symptoms until they are in an advanced stage, but early detection and treatment can truly save a person's vision. No online app can do that."
Visit www.aoa.org for more information on diabetes and comprehensive eye examinations. For additional resources, visit http://www.allaboutvision.com/conditions/diabetic.htm.